Lord Jinx Hyrule, sixth in line to the throne:
As a child Jinx was cruel, arrogant and overall protective of his dignity. He ran a successful gang that conned unwary travelers and carries out several other tasks to illegaly recieve rupees.
Jinx was cruel...
He loves Castle Town and always has, as he knows that in an alternate enviroment he wouldn't be able to manipulate the system the way he currently does. He realises that to protect himself, he must protect his town. Castle Town is his hometown and he knows it like the back of his hand. Not one secret in the dark gets past Jinx, he has connections everywhere. As a child he began his self-righteous crusade to develop 'friendships' and contacts within the most powerful and most barbaric organizations of Castle Town and some even expanding deeper into Hyrule.
Castle Town is his hometown...
Jinx takes special pride in his work and enjoys watching others suffer. The one thing that will infuriate him to the point of combat is a blow to his confidence. If someone insults him than he'll give them one chance at redemption, or draw his sword. Jinx is a decent fighter, but his real muscle is his gang. They move in a pack and defend each other at all costs. They won't permit a loss.
Defend each other at all costs...
He adopted a stray dog that apparently saved his life, a rare act on his timeline. He's seen smacking the dog around, when needed. Jinx is
almost
heartless, but can someone find the passion that drives this soul? This question will be asked many times over the life of... Jinx.
Jinx is almost heartless...
Jinx has always been tall for his age, maintaining coordination that's unexpected for his height. This makes his opponents unwary and gives him an upper hand on the battlefield. He has cold blue eyes and dark red hair, only complimented by lightly tanned skin. He's somewhat strong, though most of his skills in combat originate from his ability with the sword. It's obvious he's had training in the art. Oddly enough, Jinx has a tattoo of the Hyrule Crest covering his chest. However, anyone who knows anything about Jinx would realise he's not the patriotic type.
He has cold blue eyes...
Jinx has grown into a man, abandoning his life on the streets to take up his dead father's political position and inherit the family estate. He's been revealed as Jinx Hyrule, now sixth in line for the throne of Hyrule. Jinx now sports an identical tattoo as that of the one on his chest in the center of his forehead.
Jinx has publicly dated Akirah for some time, off and on. They were recently seen back together in Castle Town.
He's been revealed as Jinx Hyrule...
Jinx's Tattoes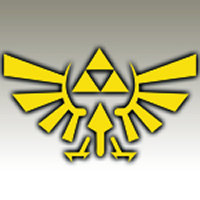 SongsFor Akirah: